If you have been reading this rant, you know I am deeply concerned about the two tier society we are building. This graph is the best visual presentation of that idea that I have found.
How much does the Average American Make? Breaking Down the U.S. Household Income Numbers.
How much does the typical American family make? This question is probably one of the most central in figuring out how we can go about fixing our current economic malaise. After all, we don't hear many people saying in today's world that they have too much money.
The median household income in the United States is $46,326. Here in California people have a hard time understanding that yes, 50 percent of our population live on $46,000 or less a year. Even today, all the elixirs and remedies being thrown around fail to focus on income and the big brother of income, solid employment. Dual earner households have a higher median income at $67,348.
To highlight the massive discrepancy I've put together a chart showing the household income distribution: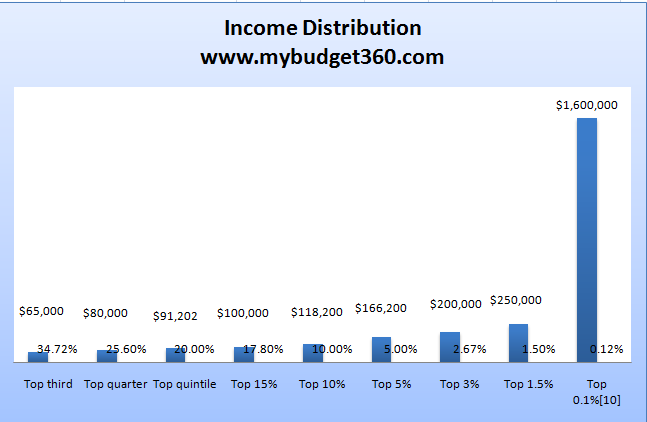 As you can see from the above chart, only 17.8% of all U.S. households make more than $118,200 a year. Only 2.67% make more than $200,000. The fact that only 34% make more than $65,000 is astounding given how expensive other cost of living items have gotten over the past decade. That is why the middle class is feeling squeezed from all different sides.